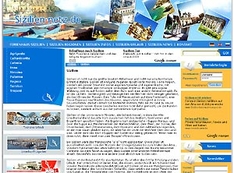 With the help of en.sizilien-netz.de you can easily book a villa or apartment in Sicily, as well as much useful information about the region and its resources.
Travel Guide to Venice and Veneto
The project www.veneto-net.com is a new online guide in the group of travel guides to Italy, which tells about Venice and one of the richest regions of Italy - Veneto.
You can find a lot of information about Ligurian resorts and recreation options in this area of Italy in the new travel guide - en.ligurien-netz.de.